OVERVIEW
THE NEW, ENHANCED CONTROLLER HARD WARE ALLOWS SEPARATE, INDEPENDENT CONTROL OF EACH HUB, RATHER THAN THE COMBINED ('axle') CONTROL OF THE PREVIOUS MODEL.
This allows normal control of vehicles with separate motors for each hub (previously this didn't work or worked erratically) and it is the first requirement for extending the system to perform Torque Vectoring in the future. The new system is also backwards compatible with axle-type control, the mode of operation is software selectable.
CHANGES FROM PREVIOUS CONTROLLER
The standard Dynapack controllers to-date are designed for vehicles with mechanical differentials. As such, in closed-loop speed mode, they control the mean axle speed and correct for differences in speed across the axle. The situation is similar in closed-loop load mode where the control targets the total axle load. This type of 'axle' control does not work well when there are two separate motors with no mechanical connection.
The new hardware has two separate closed-loop control units per axle, one for each hub, and an axle control mode which uses just one control loop and restores the standard 'axle' control of the previous Dynapack control system.
There are no externally apparent changes to the controller hardware, and it is compatible with existing pods and pod cables.
The software has just one change, the addition of the two drop-down boxes illustrated below.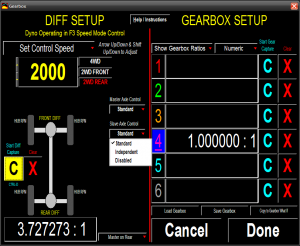 OPERATION
Before running the vehicle on the dynamometer, a suitable mode of control should be set.
If there is any kind of mechanical differential on the axle, choose 'Standard' control for that axle.
Only if there are separate motors on an axle choose 'Independent'.
Always set the mode of control for both axles on a 4WD system.
The selection is made in the F11 Vehicle Setup Screen on the Diff/Gearbox Setup page. (Pictured here)
The 'Disabled' option is the same as the drive switch on the back of the controller units. It turns off all drive (disables control) on the axle.
Once these options are set the dynamometer will be ready to run with a control that is suitable for the vehicle. Performance in standard control mode should be the same as the previous Dynapack model. Independent control mode uses equivalent control gain and other parameters.
SELECTING CAPABILITY 4WD
A 4WD dynamometer control system can be independent on both axles, or only on one. If one axle will never require Independent Hub control capability it can be supplied as a standard controller. For instance, the Master controller may be a standard controller to run an internal combustion engine with a differential on the rear wheels and the Slave might be an independent capable controller to run two separate electric motors on the front wheels. That independent controller on the Slave can run in standard mode to run typical 4WD IC engine vehicles too.
Please consult Dynapack to help determine what is best for your usage scenarios.